Currently house used plumbing brass valves are generally
brass radiator valves
,
brass gate valves
,
brass angle valves
,
brass ball valves in China
.

As the mechanical properties of copper alloy is good and anti-rust, has an advantages of strong corrosion resistance, so
plumbing brass valve
has gradually replaced the iron plumbing valves.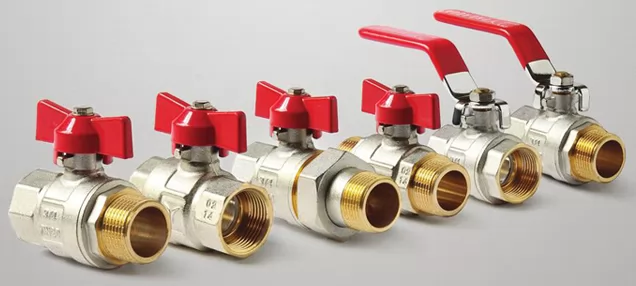 Brass radiator valves are designed to regulate the flow and temperature of radiator and floor heating.

Brass angle valve surface are basically used electroplating, its role is not only to control the flow of pipe media, but also play a decorative role. The Brass angle valve is generally connected to the pipe and the water hose for the faucet, the toilet water supply, and the connecting pipe and the water inlet hose for the water heater supply.

The brass gate valve is basically used for the connection of pipes and water meters.

As the brass ball valves is opening and closing convenience than the gate valve, the current pipeline and water meter connection is also the majority of the use of brass ball valves.

Household brass plumbing valves purchase should be based on the different requirements of the user to choose different types of civil plumbing valves, here are some tips you can follow:

1. Visual inspection plumbing valve: the surface should be no trachoma; plating surface should be glossy uniform, should pay attention to whether peeling, cracking, charred, exposed, peeling, dark spots and obvious pits and other defects, fine, smooth and uniform, no sagging, exposed and other defects. The above defects will directly affect the service life of brass ball valves.

2. Plumbing valve thread is to connect with the pipeline, in the purchase of visual inspection of the surface of the thread with or without dent, broken teeth and other obvious defects, with particular attention to the pipe thread and the joint rotation of the effective length will affect the sealed reliability, the purchase should pay attention to the effective length of the pipe thread. General DN15 cylindrical tube threads effective length of about 10mm.

3. Check the markings: China brass ball valves, brass radiator valves, brass gate valves, brass angle valves are marked with nominal pressure on valve body or handle, which will help you to choose according to your needs.

4. Understand the length of its structure before buying, replace the existing brass ball valves, brass radiator valves, so as not to buy after installation.

5. Buy according your needs of threads: Brass angle valves with internal and external threads, also note that the current market is part of the zinc alloy manufacturing brass angle valve, the plumbing brass valve price is lower than the average product, But easy to cause corrosion fracture.

6. Try to buy in building material stores or supermarkets where quality of products can be guaranteed.
NAFCO is a professional manufacturer of China brass ball valves, brass radiator valves, brass gate valves, brass angle valves, we supply kinds of brass valves and brass fittings with reliable and stable quality, you are welcome to inquiry with us at sales@acrofluid.com.
More articles of brass valves that you may be interested: